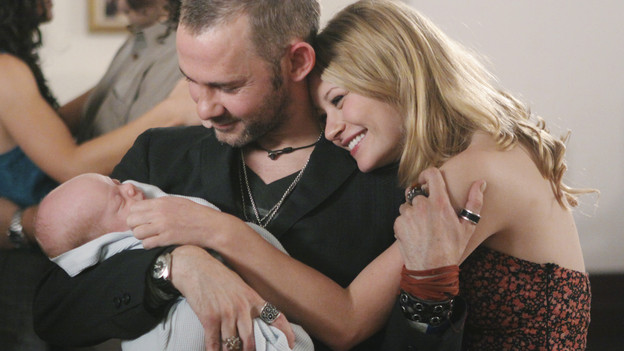 GQ: Now that it's all over, what did you really think of the last episode?
Emilie: Well, I gotta go back to when I was reading it. The whole last script was printed on dark red pages so that it couldn't be copied, and we didn't get the last ten pages until the night before shooting it. I was so moved by it. It wasn't like, Oh, it's the end of Episode 5. It was like, Wow, this is the last time I will ever read a "Lost" script again. That had major resonance.

Some fans weren't as moved.
I don't think everyone is going to be satisfied with the end of every show or every movie, especially something complex like this where you can't answer every question. That's one thing I heard: Why didn't they answer everything! But it's sort of boring to answer everything. You'd need another 500 episodes to do so. And I thought it ended in such a beautiful way.

Were there any questions that you had that went unanswered?
I would have liked to know more about what happened with Claire and her mother and their relationship.
I was always curious about why Claire's baby daddy's paintings were in Charles Widmore's office.
Me too! I thought the dad was going to come back in some way. And the mother.
Did you like playing crazy Claire?
I did. I really did. It was nice to do something different after four seasons.
She had gone from being someone who's always holding a baby in the scenes—
Yeah, I couldn't be involved in the activities. Just standing on the beach, saying, See you guys!
Then you became a gun-wielding badass.
It was great to be able to do such different things. It wasn't a show about five people doing the same thing every day.
It's no "Friends."
Yeah, it was creatively stimulating. I don't think I could have done a show for that long if it was the same thing every episode.
Is it tough saying goodbye to a character you've known for so long?
It is. But maybe crazy Claire shouldn't hang around in my mind for too long. That could be dangerous.
Head over to GQ.com to read the full interview.


Tags
: Claire,
Emilie de Ravin
,
interview
,
LOST Finale
,
Season 6